Hey guys, Cabba here. I was about to launch a Patreon campaign for $0, but thought the better of it. Our new album is coming out in a few months, and thanks to your support we've been able to fully self-fund it, so we don't need more of your money. Especially in the Forged In Flame era over the last 3 years, thank you so much for buying the album, buying the merch and coming to our gigs, it means the world to us and allows us to keep going. 
THANKS FOR SUPPORTING US - KEEP YOUR MONEY! 
Being in a band is expensive, we've all heard about it enough lately. The industry is changing and musicians need to think outside the square to make ends meet.  
Let us tell you about Claim The Throne and provide a perspective from a band who tours part-time. In our 10 year history we've achieved most of our goals, we're not a big deal in the global metal scene by any stretch of the imagination, but we've had a pretty good run - Four CDs and counting, regular local gigs, a handful of tours each year, been to parts of the world we never dreamed of and met some incredible people who we are proud to call fans. We've tackled the new digital age by looking for ways to add value to our products - we wrote a fantasy novel, we have 50 free podcast episodes, we have free music help articles, we include tabs and extras with downloads, an online-only acoustic release, and we get creative with concert ideas in our home town. ​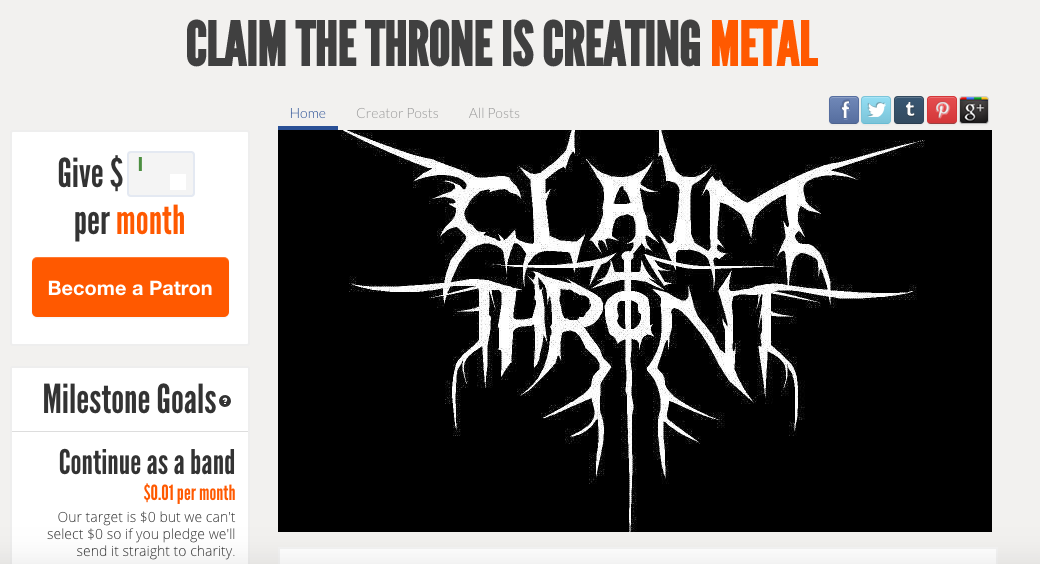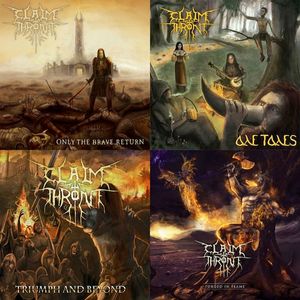 Over those years, we've been privileged to earn enough cash to cover a good chunk of our expenses. $10 from a CD, $15 from a shirt, $200 from a show.. not much, but eventually we make enough to pay for our next project then the cycle continues. So we save enough from gigs to record an album, then we launch it and make a bit more, then we can afford to go on tour, and so on. We are also lucky in Australia to have brilliant government funding opportunities for artists. There is a gruelling application process but this ensures only the most suitable projects are funded, a vetted process with proven benefits the community at large, and we've scored a few bucks at times to help with touring.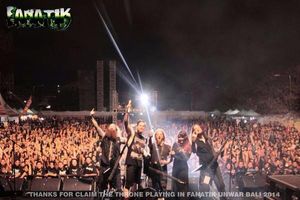 Budgeting like this makes you appreciate just how precious money is for a band, and forces you to be smart about what tours you accept or turn down. Going on tour from Perth, the most isolated city in the world, is not cheap. We usually cover half of the flights with band money, then each band member chips in the other half. The rest of our band-kitty then goes to cover vans, accom, sound guys, visas, marketing etc. We gotta do stuff on the cheap, but it can be done!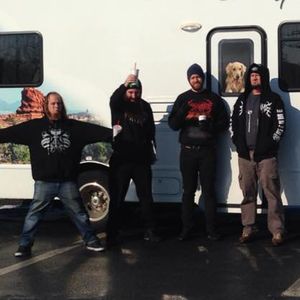 Fun fact - Our most recent US/CAN headlining tour was fully self-booked and we made the most money we've ever made on a tour. We had full bargaining power with venues/promoters/support acts, and the punters wanted to support us through buying a shitload of merch just to help out. To save on costs we hired a cheap motorhome, borrowed gear, used local sound/light guys, stole airport trolleys and ate at Wallmart. The cred from this also helped us score a spot on the 70K Tons Fest playing with heaps of our favourite bands. Smaller scale shows, but highly successful.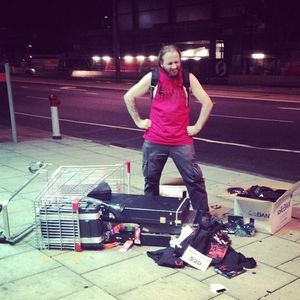 We all have pretty normal day jobs with average incomes. Just enough to be able to put some money aside to help cover touring costs. This also limits how much time you can take off work.. if your boss is cool then you can sometimes push it to a few months off per year, but you can't take the piss. So we're obviously not in the position to go on tour 300 days of the year, but we can still do it a bunch of times which we're grateful for. We'll keep doing what is within our means until the time is appropriate.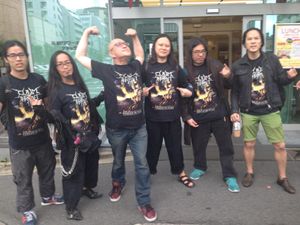 One thing we've learnt is that musicians aren't the only ones struggling.. The fans turning up to our shows are low on cash too. We see people at gigs who are in difficult financial situations, but they are still willing to support the metal scene that they love. These people are eager to spend the last $50 in their wallets for gig entry and a band tee. Metal fans rule.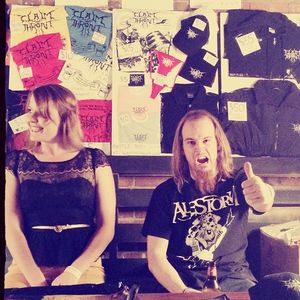 So what we're saying to you is this, thanks for keeping Claim The Throne alive and please keep supporting the entire metal scene! If you can really afford to help us out with a few bucks, then head to our webstore or come to a show. Don't blow your money on us here, put it towards the new Be'lakor album, put it towards a King Parrot shirt, put it towards a Disentomb gig, put it towards a Parkway Drive DVD, or just buy yourself a beer! If you can't afford it we understand, most of our stuff is streamable/downloadable for free, your word of mouth is payment enough.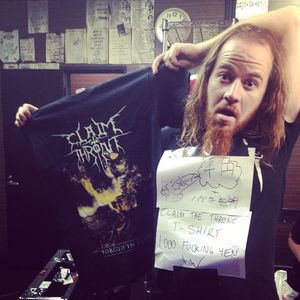 This is not a dig at any bands or crowdfunding or whatever. We simply just want to highlight from a different perspective that bands can survive on a budget. We also want you to think about what you're pledging for, before you feel sorry for us poor struggling musicians ask yourself "what will this do to our industry?" At first it may appear to present exciting possibilities for the future, but make sure you also consider things like... 
Labels, promoters and agents will no longer fork out money to help bands, that will be the fan's job. Then all of a sudden the band's 'wages' are needed to cover touring expenses and we're back to square one.  
If bands choose not to crowdfund that doesn't mean they don't take their financial position seriously, keep helping them out. 
What about when all of the fan's money is exhausted, you can't pay for all of your favourite bands and it's not fair to pick and choose who to pay. Let's hope this doesn't turn into a competition to see which band can get the most $$$ 
What about when the fans aren't willing to pay for gig entry or t-shirts because they feel they have spent enough already with their monthly pledge? This will cause normal musician income sources to suffer, and gig turnouts to drop.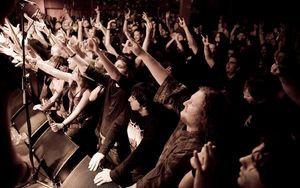 In order to move forward we need initiative and action. The future needs band members who can record their own music, do their own artwork, solid songwriters, admin skills, budgeting skills, smart marketers, good communicators, hold stable jobs with flexible working conditions, patience and a passion to succeed. Love your music, love your scene and just be a nice fucking person. 
If bands insist on maintaining a full-time touring schedule with big costs on the road then we don't know the way forward, but we'll keep thinking and hope you will too. In the meantime just keep it real, think carefully and do what your heart tells you. 
Thanks as always, and see you when our new album is out! 
Cabba