Sadly our industry is coming to an age where it is difficult gaining revenue from selling music alone. But we are also in an age when the earning potentials can be huge if the changes are embraced and if you are clever about it. One of these ways is by selling merchandise, and I'm not talking about a physical copy of your latest CD, I'm talking about shirts, hoodies, stickers, posters, g-strings and the endless list of promotional gold! 
Sure, there's plenty of concepts and theories on what and why people buy, but today we're gonna strip it right back and teach the rookies how to begin! 
Get a band logo and artwork 
If you don't already have a band logo, you'll need one. Have a play around with Photoshop or find a pro who can design you something awesome. A logo alone is more than acceptable for your first t-shirt design, but should you wanna go all out with a big design then that's cool too! Just bear in mind that more colours = more money.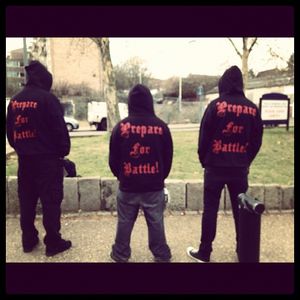 Get a quote 
Shop around for plenty of quotes, you'd be surprised to find just how much prices can differ! There are two main things that will affect your price – colours and quantity. The simpler the design, the cheaper it will be, so a white logo on front of a black shirt will be cheap, where as a 3 colour design on the front with a slogan on the back will cost you extra. It will also work out cheaper per garment the more that you order, so you want to balance good value with how many you are likely to sell. Also don't rule out shopping interstate/overseas, sometimes with freight it may still work out cheaper than buying locally! 
Place your order 
Once you have carefully chosen your printer, send them all of the details and confirmations, but only after double-checking one million times. You want your artwork to be in the highest possible quality and you want to make sure they understand what you want. Some places will print a test copy and send it to you to authorize which is a very good idea. You don't want to order 200 shirts and be upset that the slogan was printed on the wrong part. Also think about what sizes you are ordering. Most of the time M and L will be your biggest sellers, but you also want some S, XL, XXL and girlies to accommodate for everyone. If you keep track of what you sell, you will master your sizes with time. 
Prepare a stock room 
Just a space in your lounge room will do, but don't underestimate the headaches that storing merch can cause. Someone orders a 2XL that is at the bottom of your box and you'll be tearing shirts apart all over the couches and pissin off your granny. So once you get your merch, set it out nicely, keep it organised by type and size, and keep track of what you have by setting up a simple spreadsheet on your computer.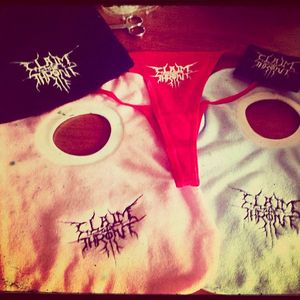 Pricing 
How much are you charging for your new merch? You want it cheap enough for people to buy it, but you also want to make your money back and then some. So think long and hard about it before deciding. Factor in postage costs for online sales and merch fees at venues. If you are lucky enough to have multiple merch items, consider package deals where people will get discounts for buying more things. Or offer free stickers to every order to entice them to pay that little bit extra. 
Launch time 
New merch is a good enough reason as any to celebrate, so launch it properly to maximize your sales. A cleverly constructed launch will sync online release dates and a live event for when merch is available. If you are really keen you might have even have arranged preorders to help fund the initial financial outlay. So book a show, set up an online store and pimp the shit out of it until it's released!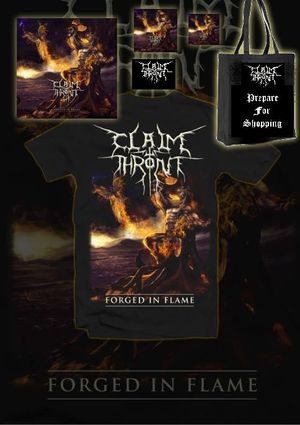 Set up an online merch store 
Hopefully you already have a website and social media by now, so you can easily link your new merch store to these pages. Setting this up is easy and free with heaps of tools available to get started, just google 'band merch store' or something like that. I can't speak highly enough of bigcartel.com, but that's just the way I was raised.. You'll need a PayPal account too. Take some cool pictures of the merch to add to the page. When people start making orders it's exciting, you should get an email to tell you someone has made an order. Send your customer an email to say thanks, and steal their email address for your band's mailing list. 
Set up a merch stall at gigs 
This is where the magic happens. A well run gig with a great merch stand is where your band will make the majority of it's earnings.  Get your band members to take turns manning the desk, meet the fans, shake their hands, sign their stuff, talk to them about your band and the scene and you will not only exceed your fans expectations, you will learn about the scene and make some coin while you're at it. Cover the other band's stalls whilst they are playing and they will cover for you. When you're on stage you must advertise the merch desk as this is the perfect time to entice people to support you and convince them that they want your stuff. Consider using online tools to enhance your merch desk, with QR codes, tipping systems, pictures and videos through social media, and offering discounts for sharing  the details.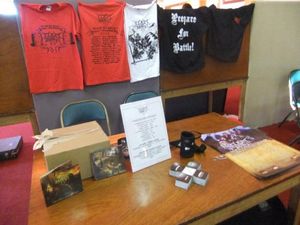 Posting items 
Postage costs suck! It will astonish you how much it actually costs to send things, especially overseas, so do your research before heading to the post office. Work out how much your items weigh and their shape in order to get the most appropriate packages to put them in. Sometimes it works out best to buy a bunch of prepaid satchel bags, you get a discount for buying in bulk and you know exactly how much they cost. Like it or not, you have to pass the postage costs onto the buyer otherwise you will make no profit on your sale. 
When sending items overseas, you will need to fill out a customs slip and provide photo ID. 
When sending multiple items, your hand will cramp from all the writing, we suggest getting stickers with your details to stick on the back of each envelope so you don't have to write it every time. 
Include additional items for your customer! This only has to be as simple as a sticker, but you want to exceed their expectations and ensure they know you appreciate their purchase, sometimes even a personalized little thanks note is a nice touch. You can also use this opportunity to include details of your upcoming gigs with a flyer or printout of your latest news or website links. 
Transporting merch 
Taking merch to gigs and tours can be a bitch. You don't really need to take all of it with you, just be realistic about how much you will sell and take a portion. You don't want to run out of any particular size however, so bear that in mind when packing. Keep things organised by sizes and styles so you can find them easily when ordered. Some bands like to roll up shirts with a piece of tape and write the size on it, this keeps them easy to find and easy to handle. I like to fold them as normal, often people like to look at the design or measure them against themselves before buying which is difficult if they are rolled up and taped away. 
**NOTE** When people ask you questions like "How big are your mediums?", don't get angry at them, just have a chuckle and troll them by replying with "large, and our larges are small". Dummies. 
Also carry a float with you for change. People love breaking their big notes at the merch stand which is really annoying, but you don't want to lose a sale because you don't have the right change. That being said, you can ask them to break their notes at the bar and come back. Some fans expect you to have eftpos facilities, this is just ridiculous. 
Promoting your merch 
The internet is always a good place to start. Post occasional updates to your social media pages with pictures of your merch, link your store from your main website, and post the odd 'special deals' with discounts on items you need to get rid of. At your gigs you can have flyers with your online store details, including a QR code to link your fans straight to the page. You might even want to consider discount cards, perhaps to special fans or anyone who purchased over $X amount. Encourage other bands to wear your shirts on stage while they're playing, and make sure you wear shirts of other local bands to share the love! 
Potential merchandise items 
(In order of popularity that we have encountered) 
T-Shirts 
Hoodies 
Stickers 
Canvas bags 
Baseball shirts 
Long sleeve shirts 
Patches 
Beanies 
Magnets 
Stubby Holders 
G-Strings / Underwear 
Baby Bibs 
Caps 
Key rings 
Posters 
So get your band name out there, make some pocket money, and have fun! 
Cheers 
Cabba